Wow, so one of my summer goals is to really get this blog up and running. I started in February on a whim, just all of a sudden thought, "I want to do a classroom blog", and that was that, my friends. It took me awhile just to physically get my page set up, and I was ok about adding posts, (minus the month of May)-Yikes!
ANYway, this is my first ever link up so forgive me if I did something wrong here. I am linking with Just a Primary Girl.
I figured this was definately an appropriate first linky, beings as though I truly think I alone could keep Pinterest up and running! Although I have made umpteen Pinteresty things for my classroom, I don't have pictures of any of them, and they are all packed away for about another month. So most of these today are ones I have done for the home.
First off is this:
I fell IN LOVE with this. Ok, this is where you can tell I'm a rookie blogger b/c I don't know how to make it so you are able to click on the picture and it send you there. So, instead I can tell you it was found on herblog.com and click
here
to see on Pinterest.
I had to recreate this, so I did the best I could with the help of one of my friends, who is also a talented artist! Here is mine:
Next, I came across this gem that pulls at the heartstrings of all moms out there:
Click
here
for the link to this one. I just loved this so much and it was a must have in my house. So, out came the Cricut & vinyl, and my version goes up my staircase.
Come to think of it, I do have a Pinterest project of something school-related. And I LOVE this. It is called "Blurt Alert". Click
here
for the original link by newmanagement.com.
This is the neatest, and very effective. You know how the littles just can't contain themselves and they just want to "blurt" something out. Well, when they do, I say "blurt alert" and they put their name on a red sheet of paper and stick it in here. At the end of the week, I staple all the kids blurts on a half sheet and send it home with to the parents. No punishment is given, its just a reminder and they are really good about correcting blurts when they get these. If they did not get any blurts, they put their name on a green sheet of paper and take it home to be praised! Here is mine:
Here is one more for classroom management. Sparklers. Click
here
for the origianl post by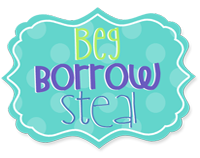 .
Sometimes I feel as if there is too much "don't do this"...etc. So, I like to provide lots of reinforcement for those that are following directions and behaving well. I took this idea and put these in my classroom. I'm not sure if I came up with this on my own or if this was on the original post, but after each child got 5 sparklers, I allowed them to pick an activity or pick from the prize box. It is a hit. Here is mine:
So there you have it. I'm a bit of a Pinterest addict, I hope you liked some of my favorites so far.
YAY! I'm so tickled pink I dove in and conquered my first link up! I mean, just yesterday, I was like "a linky whaaaa???" I'm proud of myself, b/c this whole blog experience has been self taught, and I really am enjoying it. I hope you all are having a nice, relaxing summer! Til next time...